Luna and Sunny are looking for a home together ❤
These two bonded sisters are currently in a wonderful foster home in Prague and this is what their foster has to say about them ❤
Both like:
-Snuggling
-Play time! They are super active and LOVE to play
-Exploring
-Grooming each other, and wrestling with each other
-General kitten mischief
Both dislike:
-The vacuum cleaner
-Being left by themselves for too long – although we haven't tested this extensively because we are home so much, they do follow me pretty much everywhere. If I'm in the bathroom or the bedroom and the door is closed, they'll meow and jump at the door, especially Sunny.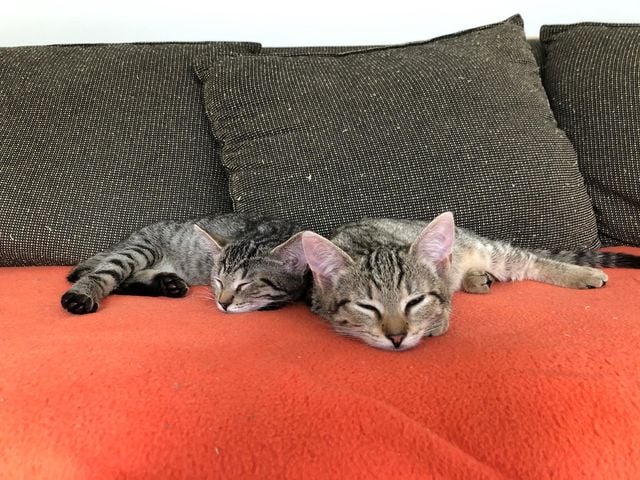 Sunny specifically likes
-Snuggling and sleeping on laps!
Mostly sticks to the lap but occasionally snuggles into your neck, but does not lick your face.
Sunny specifically dislikes
-She has a limit to how much she likes to be pet – after a few minutes of head rubs and petting she'd prefer to just continue sleeping peacefully on your lap, otherwise she will jump off and opt for a nap on the floor instead.
-Nervous about meeting new people, especially if they are loud. Hides from strangers and needs at least 45 minutes before coming out to meet them. Just needs time and patience
Luna specifically likes
-Snuggling, especially by climbing up into your shoulder/neck and snuggling there. Loves to bump you with her head, rubs her face all over your face, and she licks my face at least 3 times a day. "Personal space" is not in her vocabulary!
They are around four months old, vaccinated, treated against parasites, microchipped and tested for FIV/FeLV.
If you are interested in adopting these two fluffballs please contact us by message on our facebook page or email jaq@coolcritters.org