I was asked to take a Momma kitty and her two nuggets. She came from a situation where a very nice lady was feeding and taking care of her local kitties, of course, most of them are not neutered or spayed and so the sad story of kittens continues. I have given the lady the contact for Feliti – kastrační program v ČR and I hope she will get the help she needs.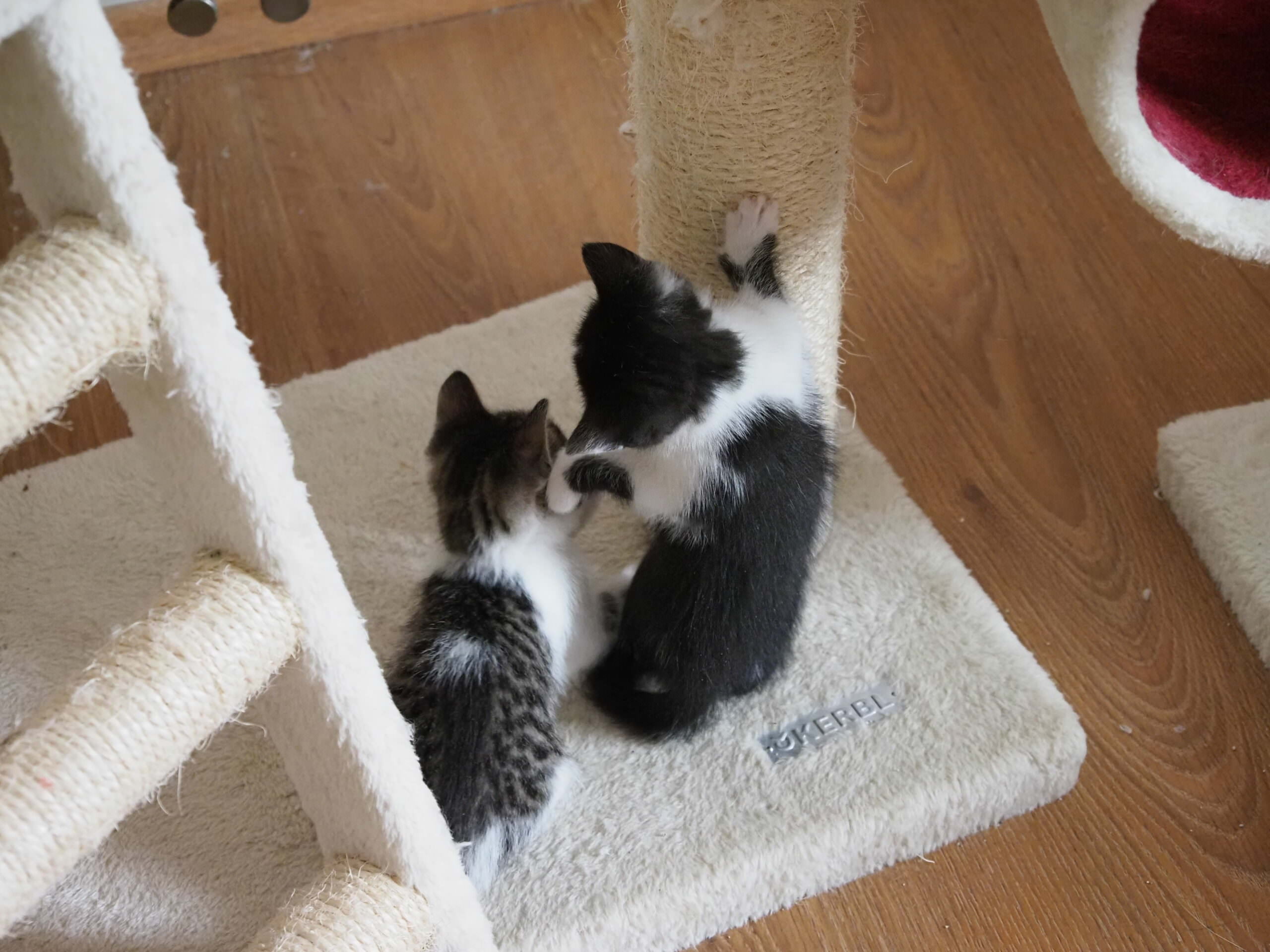 Momma, who I have named Twinkle, is little more than a kitten herself, she is very friendly, loves being petted and she takes very good care of her babies. This kitty was very special to the lady, the kittens were not safe, a male cat was attacking and killing the wee ones. How could I say no! It just wasn't possible. So now, I have my own kitten TV ❤
UPDATE: Star is adopted!
Star is one of the babies of famous Momma Twinkle. She and the rest of her family unfortunately had ringworm, so they had to take a long time to recover before looking for their forever homes. After they recovered, they were overlooked for some oft he other kitties in our care. We couldn't understand why – Star and her family are the most loving, playful kitties you will ever meet! Luckily one day Star's new dad came along and recognized that. They clicked immediately and he took her home. Now she spends her days getting doted on, playing, and enjoying her fantastic new life.
UPDATE: Piccola is adopted!
Happy tails to Piccola who found her home with a lovely couple and their little girl 💕
Piccola was a little nervous at first in her new home but it's hardly surprising, she had been at Cool Critters since she was nine days old. Now she is asking for caresses and starting to get along with their daughter. Cats take a little more time to settle in a new place, but we are sure that she will soon be best friends with her small human. We look forward to hearing about their antics ❤️
Have a wonderful life Piccola 🐾❤️🐾💕
UPDATE: Twinkle is adopted!
Happy Tails to Twinkle who found her forever home with a wonderful couple 🥰🥳🐾
'Twinkle got her new second name "Éclair" ❤
She starts to enjoy her new home as much as we enjoy her company 🙂 Now she is part of the family ❤ '
Twinkle spent ten months at Cool Critters with her two daughters, Piccola and Star. We are so happy that they all found wonderful homes. It warms our hearts that we could have been part of their journey.
Have a wonderful life sweet Twinkle, Éclair ❤ ❤ ❤