Buttercup was one of the kitties that came from the Mlada Boleslav graveyard colony that we felt could be turned. Though she's a bit shy, she absolutely melts whenever she gets attention. She purrs, makes biscuits, and shows that she clearly
wants to love people but just needs a little time to trust. Once she does trust, she is a happy kitty that loves food and naps. Buttercup is being socialized in foster care before being adopted.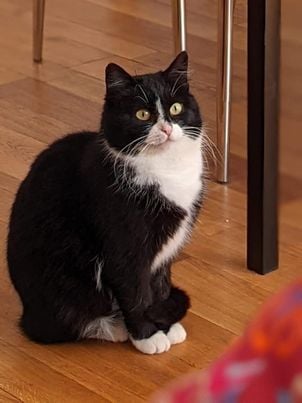 HAPPY TAILS: 5. 5. 2021
Happy tails to Buttercup, now Robin, who was officially adopted today! 🥰😸❤🐾
Robin came to us as a shy kitty from the Mlada Boleslav graveyard colony. It was clear to us immediately that she wasn't fully wild like some of her companions, but she had certainly experienced something that made her wary of humans. 💔☹️ With constant interaction, Robin started to relax. 🥰 She was still a little goofy though – she would be very happy once she was in a lap being pet, but as soon as you put her down she would forget and be scared again! 😅 So, Robin went off to foster to be socialised with one-on-one attention. Her foster Mom worked hard to build a relationship with Robin, and it soon paid off! 🐾😸One day Robin realised she was happy and safe, and quickly became a lap cat. ❤️ Now confident Robin demands attention and cuddles constantly, enjoys doing zoomies and having playtime, and loves treats (only real meaty treats of course!). 😻😺❤️ Of course, this bond between her and her foster Mom was so special, so her Mom decided to make her a permanent member of the family. ❤️❤️🥰 We are so happy to see how far Robin has come, transforming from a scared kitty to a confident and content house cat who is certainly the queen of her new home. 😺❤️🥰
Happy tails Robin and Mariarosa! We wish you two the best life together!