What is a sanctuary? It's a place of refuge, a safe peaceful haven, free from all the dangers in the world.
One day a lady posted on a Facebook group asking for help as she could no longer keep her beloved dog. The sad thing is, there were so many people with so much to say about how terrible this was. Of course she didn't want to re-home her dog, she had her for eight years, she was a member of the family. Asking for help was her last resort.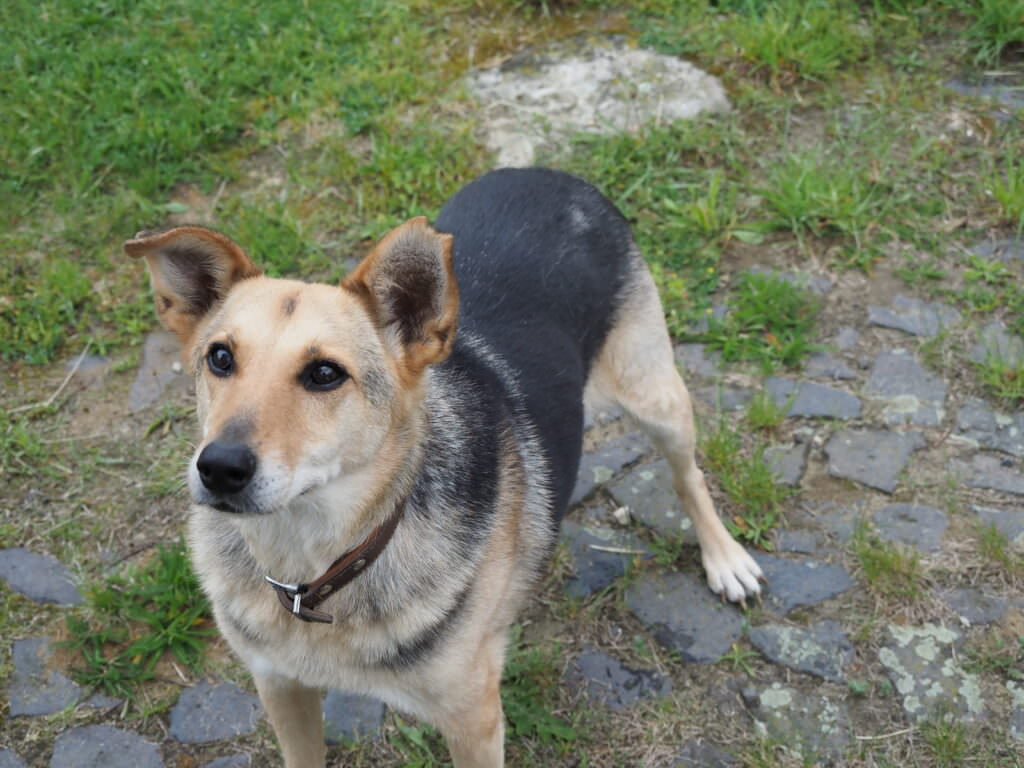 Her relationship had broken down and she found herself with an elderly dog, a toddler, working full time, a landlord that wouldn't allow pets and a third floor flat without an elevator. My heart went out to her. I was a single parent with two children, working full time. I didn't have the added responsibility of an animal.
I offered to help her find a home for Fenia and soon had people asking about her. Three people and no luck, so it became plan B. Fenia came to live here and her previous owner can visit whenever she wants to.
Fenia is sixteen years old, sweet, gentle and a sun worshipper. She is in very good health for her age, she is like a puppy in the morning, slowing down throughout the day. I'm giving her supplements for her joints and her stiffness is improving. Fenia is very happy here, she has found sanctuary.
UPDATE: 7. 3. 2021
Fenia has been living it up in the big city ❤
Eamon had been asking for a while if he and Tara could foster for us. A few weeks ago he came to stay overnight to photograph stars and he fell in love with Fenia. So, last Friday, Fenia went on a holiday 🙂
A few days ago Fenia was off her food and hadn't toileted so Eamon took her to the vet. He called me from the vet and told me that they had done an x-ray and she had an obstruction in her stomach and needed surgery. The vet in question wasn't one that I would normally use and I'd heard a few things about them so decided to send her to a vet we use and trust.
Fenia had trapped gas! She most definately did not need surgery!
I contacted the vet in question and asked how they came to the conclusion that she needed surgery, it wasn't written on the medical report they provided. Their answer didn't really correspond with the information I had been given.
The moral of this story is …. always get everything in writing from the vet you visit at the time of the visit, not afterwards. This is really important. Unfortunately I can't 'report' this vet as without anything in writing it is a 'he said, she said' situation…. with a middleman.
Fenia is an old lady and this could have had a very unhappy ending.
On a happy note, here is Fenia living the life in Prague where she is being spoilt rotten ❤ And Eamon informed me yesterday 'A big smelly poo was delivered today at 2 25 pm weighing 1kg. Happy to confirm both mother and poo are both healthy' 😃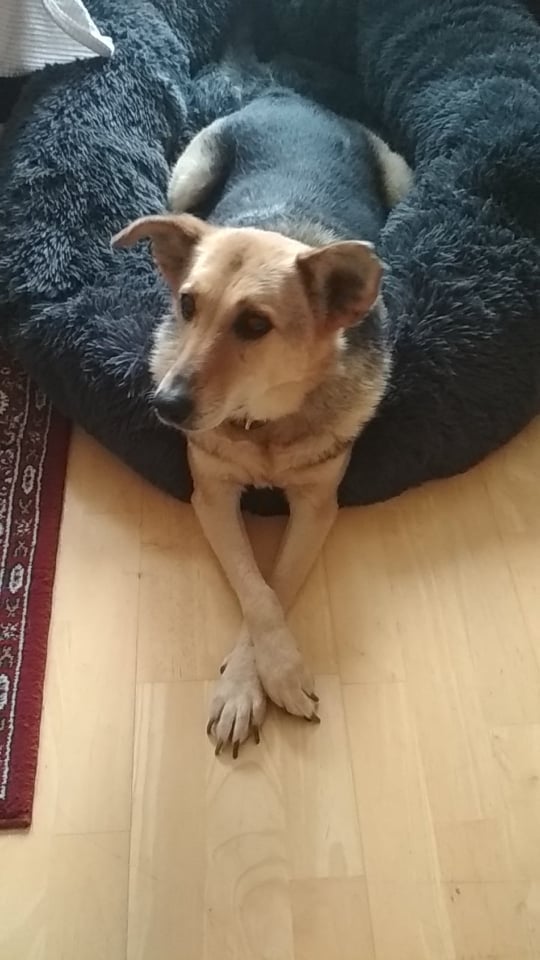 UPDATE: 30. 4. 2021
F E N I A is looking for her forever foster!!
Our lovely senior 17 year old Fenia is looking for a forever foster! 💕🐾 Fenia is an absolute sweetheart. ❤️ She loves getting pets, sleeping, and her food. She is an easy-going dog that would be happy to accompany you on leisurely strolls and spend evenings snuggled up watching a film or reading a good book. 🐾 The ideal home for Fenia would be a place with not too many stairs (she has some arthritis so they're a bit difficult for her), and with people who will give her all the love she deserves. ❤️💕🥰 Also important would be a family that is good about sending pictures and updates – her current foster family will miss her very much and would love to stay in touch! ❤️ If you are interested in making Fenia a part of your family, and are curious about what being a 'forever foster' entails, please reach out via email or messenger for more details.
UPDATE: 23. 5. 2021
Fenia has found another foster home and we couldn't be happier 🐾💖🐾
Eamon and Tara have to go back to the UK and they debated for the longest time whether to take Fenia with them. After much soul searching and consideration of Fenia's health and age they decided it might be too much for her. The journey, the transition and for a younger dog, it might have worked. But, Fenia is seventeen and they didn't think it would be fair to her.
Fenia loves the city, Fenia loves her short walks. Fenia is one of the easiest dogs to take care of. She loves her humans, likes other dogs and she is a great friend to a cat 😻
We looked for a foster and then came the 'light bulb' moment. We asked Breanna and Jason who fostered Dandylion Fluffy Butt and eventually adopted her 😍 After meeting Fenia a few times, going with her to the vet, she then needed to be introduced to Dandylion, to see if they would get along.
What do you think? Are they not just the cutest pair ever? 🥰🥰🥰
Thank you from the bottom of our hearts to Eamon and Tara for taking such wonderful care of this sweet girl and thank you to Breanna and Jason for becoming her new fosters ❤️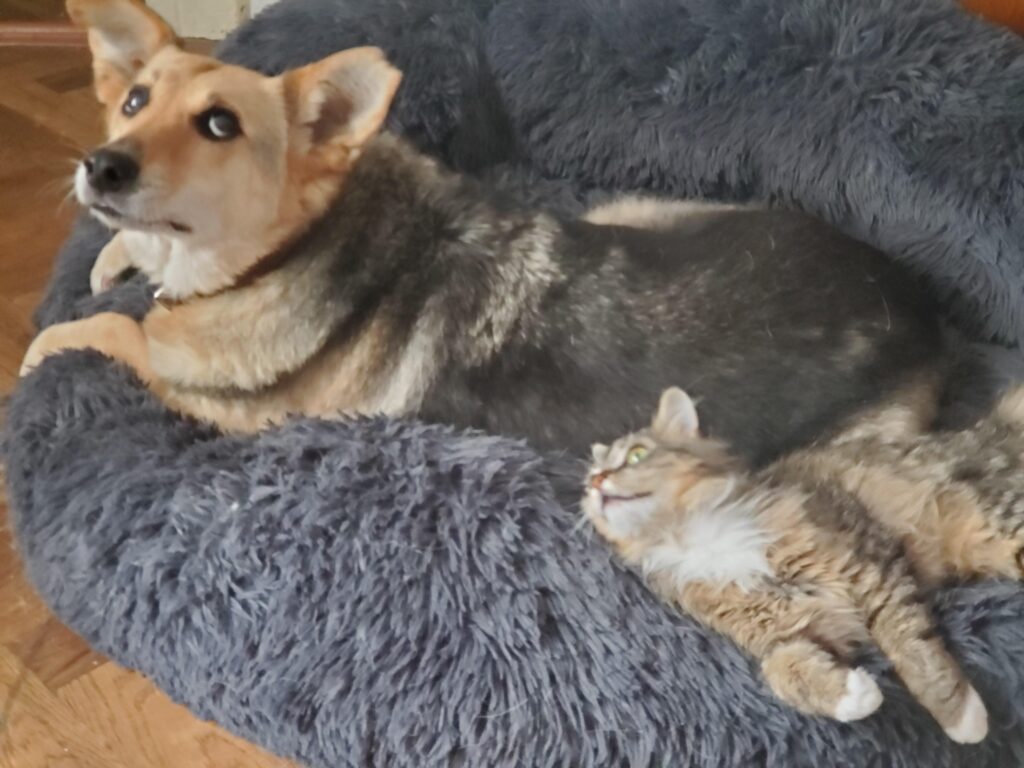 UPDATE: 2. 9. 2021
‼️ Fenia Update: ‼️
The last few days have been very hectic for our Fenia. She was moved to a new foster family as her past family told us they were moving and Fenia wouldn't be able to join them. Luckily, a lovely new family stepped up to take Fenia. ❤🐾 Before we took her to her new home, Fenia had a big vet visit to get a full health check – and she was given a clean bill of health! 🥰 She has been being monitored by the vet for the past few months because she suffers from high blood pressure and was found to have high kidney values – because of this she has also been on a renal diet to keep her happy and healthy, and stave off kidney failure. Unfortunately, Fenia is not a young dog anymore and does not handle change well. 😔 So, after her move she was stressed out the first night in her new home, and scared her new foster mom by falling down because her back leg muscles just aren't too strong anymore because of her age and her arthritis. 💔 So, just to be sure, Fenia was taken back to the vet again yesterday. While her legs were fine – it was determined she had a muscle spasm that is normal for her age and condition – the vets became worried about her kidneys. Fenia had also been having some troubles going potty the past day, and the vets wanted to investigate more to see if it is truly just stress, or if she could be suffering from kidney damage that is very common in dogs her age. At 17.8 years old, every small issue needs to be thoroughly investigated. 🩺 So, Fenia spent the night at the vets getting a transfusion and undergoing some more tests. Today we are anxiously awaiting news from the vet to see how our Fenia is. 🙏Please send positive thoughts and healing well-wishes her way! 🙏❤🐾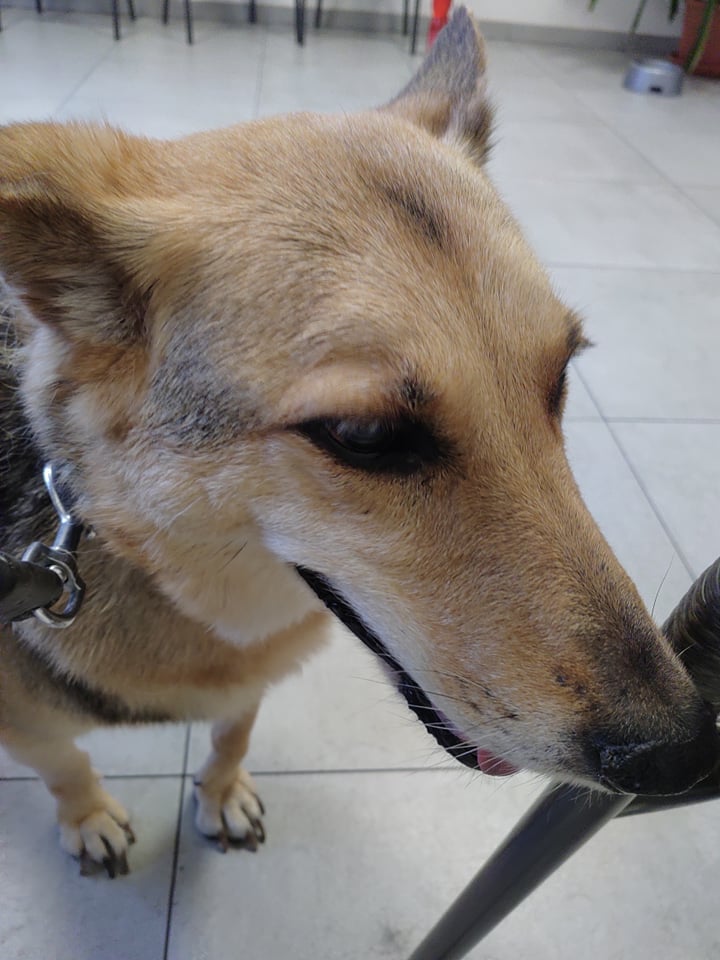 UPDATE: 3. 9. 2021
Fenia is home 💗
The vet thinks it was stress related and we are so thankful that it wasn't her kidneys. The sudden move was too much for her so she is back at Cool Critters in the kitchen where we will monitor her closely 👀
Fenia has been in foster a couple of times. She spent time with Alan, then with Eamon and Tara who wanted to adopt her but had to return to the UK. Then with her last foster family.
Each time the transition was slow and we carefully got Fenia used to her new people and foster home. Unfortunately this time the move was unexpected and it just proved too much for her 😞
The kind people who offered to take her have not given up on her. They will visit her here so that she can get used to them. We will then leave Fenia with them for an hour or two a few times. Let's see if we can work it out 🙂 If not Fenia will have here own quiet space here 💗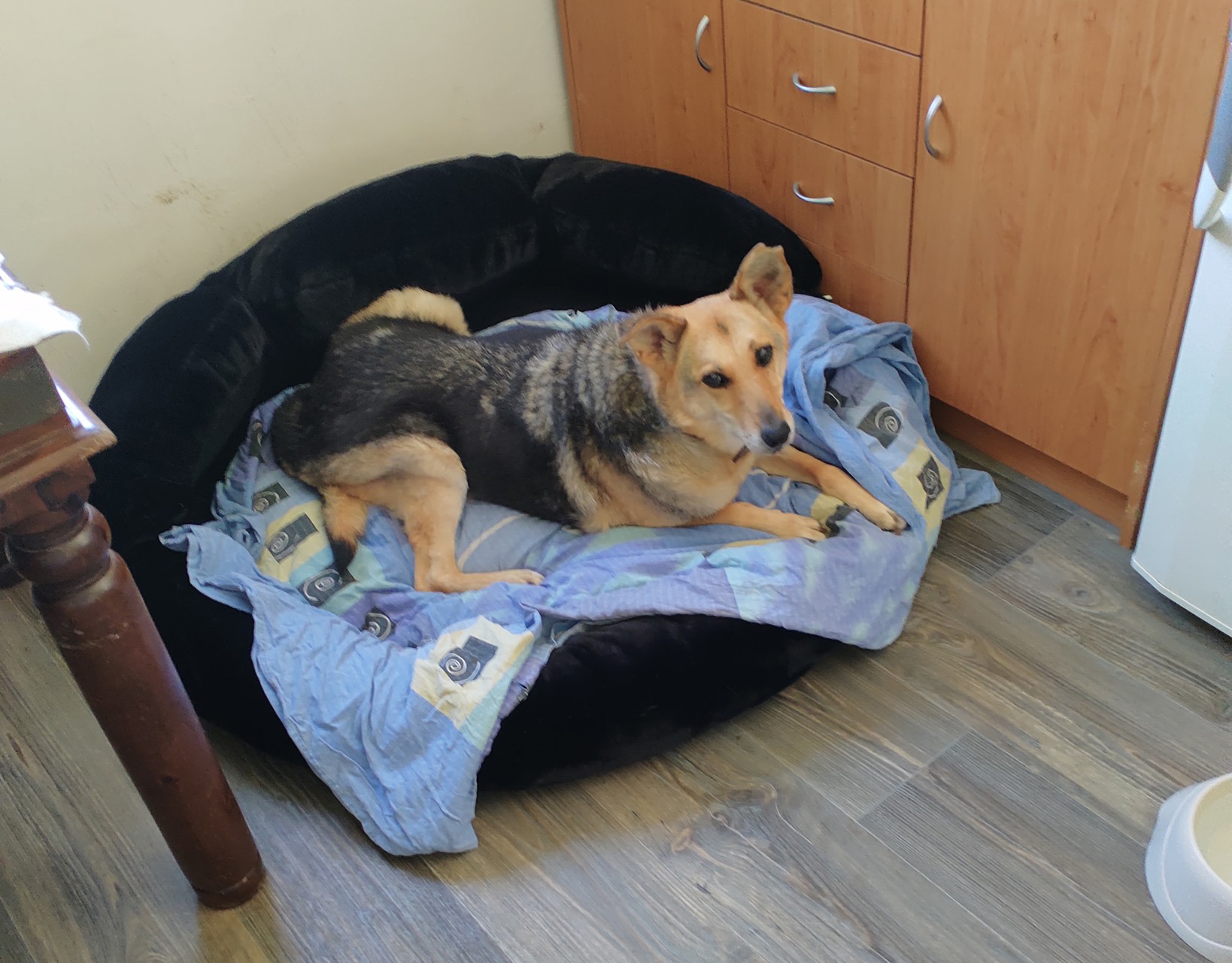 UPDATE: 5. 9. 2021
Some good news to share 🥰
Fenia is doing great. Her shaking has stopped and she is now relaxed, rather than pacing. We gave her a calming collar to wear. She's sleeping well and eating well 🙏
Yesterday she enjoyed time in the garden with visits from Honza, Honza's momma, Miroslava and Petr. All people she knows well 💕
While we would love for her to be in a home being the only dog, the quietness of the kitchen seems to be working well for now 🥰
UPDATE: 9. 11. 2021
Our sweet old lady Fenia is not doing so well 😢😢😢 At almost eighteen years old, she is starting to get very wobbly on her legs. Her kidneys are starting to fail and her high blood pressure is not coming down, even with medication 😢
She has regular checks with the vet and yesterday we were told that there isn't anything more they can do for her medically. Her blood pressure is very high. Here you can see how they measure the blood pressure, the machine is attached to her tail so she can just relax while the machine takes the readings. The blood test revealed that her kidneys are getting worse 😢 She has started to get what we think is dementia 😢
We don't know how long Fenia will be with us and we decided to hold an early birthday party for her in the next couple of weeks. With a cake and all her friends here to make it a special day. It's hard for all of us and we just want to make life as nice as possible for the time she has left with us. Please keep Fenia in your thoughts today 🙏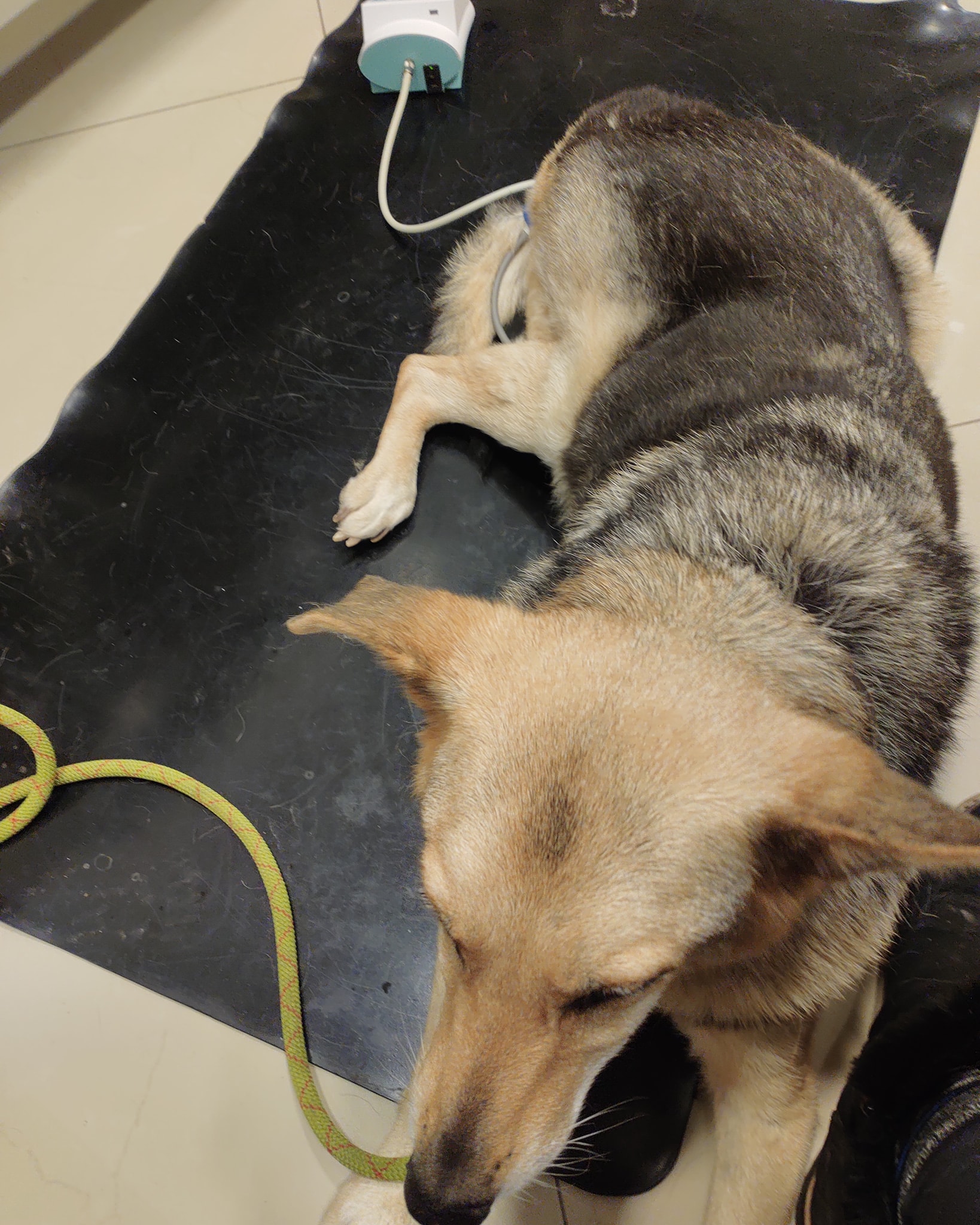 UPDATE: 14. 11. 2021
Our incredible Fenia crossed the rainbow bridge tonight, at almost 18 years old. 💔 🌈
Fenia has been a very important member of the Cool Critters crew from almost the very beginning, leaving her mark in the organization's legacy and in our hearts. Fenia was always the happiest dog – her favorite things included people, fusses and food – traits that made her the perfect greeter pooch for visitors, happy to accept all the love and treats they brought with them! ❤Despite her age, Fenia never showed any signs of slowing down. She lived every moment to the fullest, whether that be appreciating a good roll in the grass in the sunny garden or gobbling up a delicious new snack. ❤ Fenia's calm good nature brought joy to us all. We loved seeing her flourish and seeing all the hearts she touched light up. Unfortunately, this past week Fenia's age was catching up with her. She let us know it was time, and crossed the rainbow bridge after an amazing day filled with fusses and good food, and surrounded by love. We love you so much Fenia, you've taken a big piece of our hearts with you – Cool Critters lost a very important member of the family today, but we will work hard to make you proud and keep your legacy shining on. Sleep well, sweet Fenia, you will always live on in our hearts. ❤ 🌈 🐾