This little baby is missing one eye and we are currently fighting to save the other one. Marley is small and sweet boy and he is trying to learn how to live with humans and with other dogs even thought his eye sight is impaired.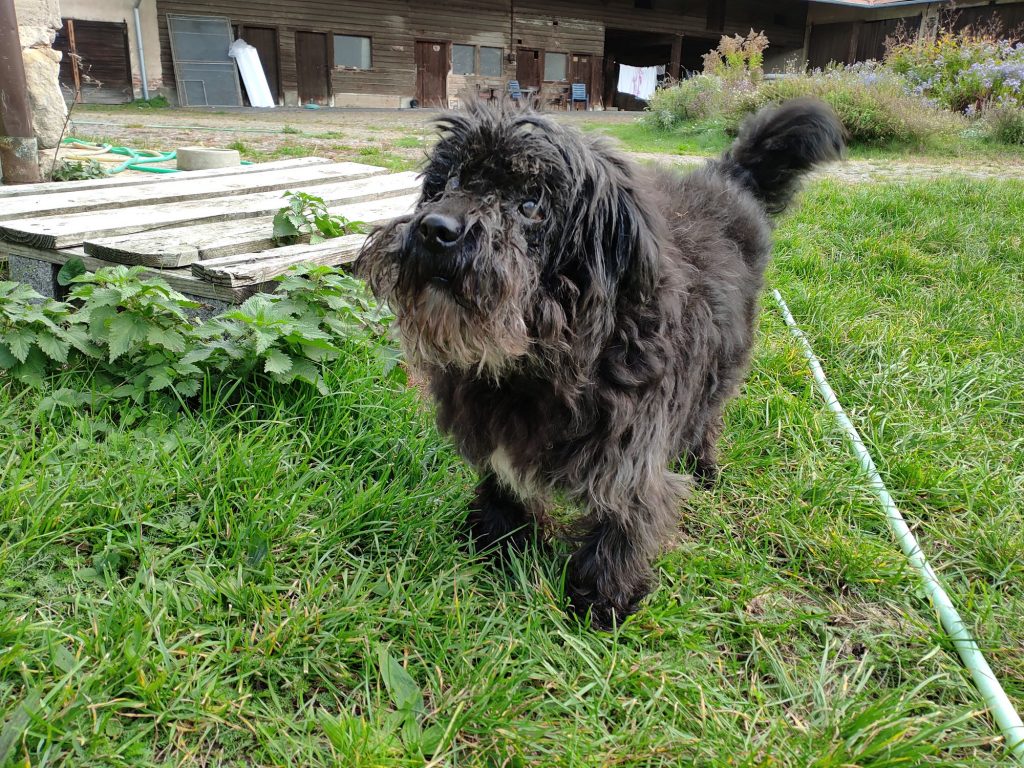 UPDATE 17.11.2020
Marley went for his heart examination last week and he has been diagnosed with some mild to moderate problems. He was given Cardisure and boy, is it difficult to get him to take the tablets! He is just like a cat, licks around the tablet and spits the tablet out.
He is feeling rather poorly right now as he has chronic bronchitis and it's hard to get him to eat. He just can't seem to catch a break. More than this, while we were looking at his x-ray we noticed he has at least four shots (bullets) in him.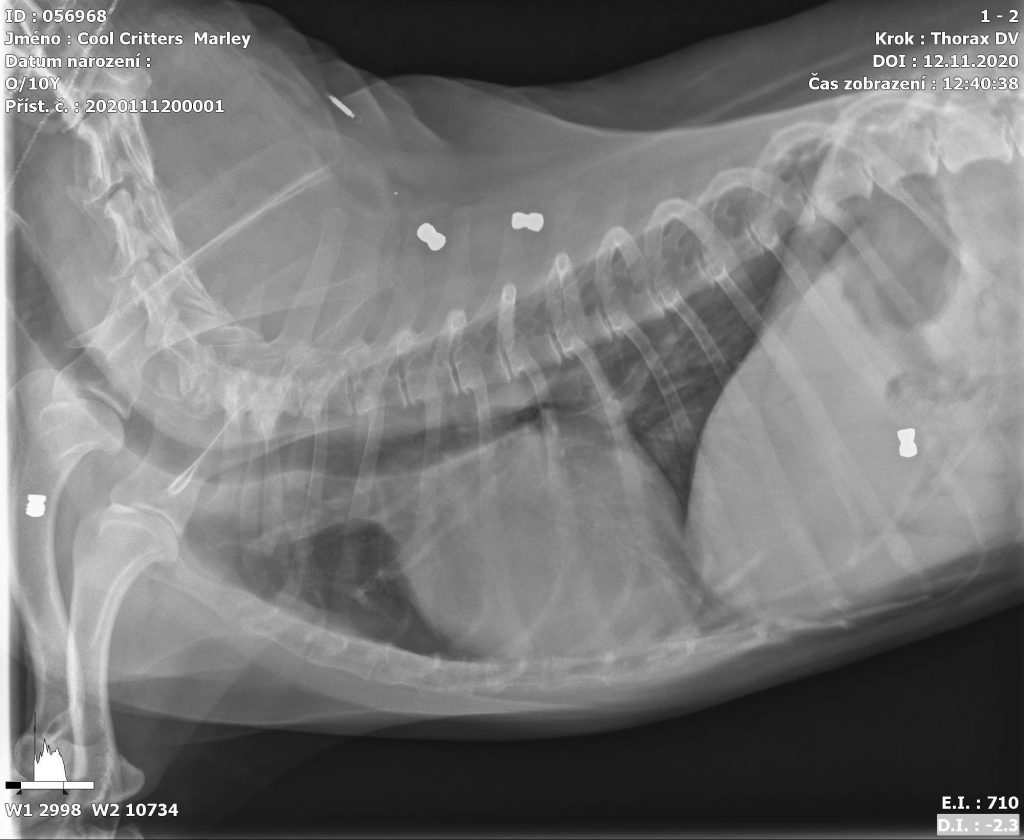 Who on earth shoots at a dog!?!?!
Marley is going to need long term care and we will soon be putting him into our new Virtual Adoption program. If you would like to support Marley or any of our other critters we would be glad of any donation towards their care ❤
We can't do what we do without you ❤
UPDATE: 28. 2. 2021
A few months ago a young couple contacted us, they were interested in adopting Marley 💞
As you know, Marley has had many health problems since he arrived at Cool Critters and over the months he has been here we have slowly brought him back to be as healthy, as he possibly could be for a dog of his age. (We joke that he is 100 years old!).
Galen and Lana's main concern with adopting him was the cost of his vet treatment and check ups. With a bad heart, bad eyes and other problems, the cost could soon be beyond their ability.
But, what they could offer Marley, was his own retirement home and a whole lot of love 💕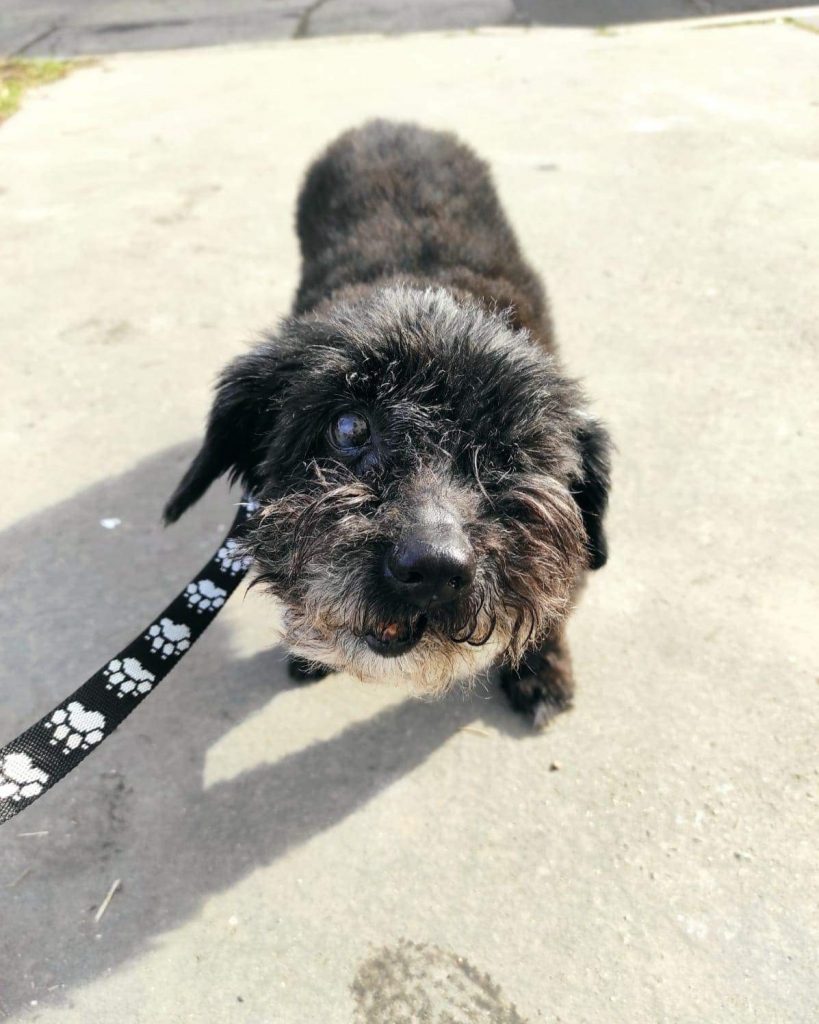 So, we decided that the best for Marley was for Galen and Lana to become 'Permanent Fosters'. The same as adoption but we take the worry out of any vet expenses by covering them for Marley.
Marley is now in his new home, enjoying the sofa and the undivided attention of two wonderful humans. Thank you so much guys and give Marley a big old scratch from us 🥰
UPDATE: 9. 4. 2022
❤🥰🐾 Happy tails to Marley! ❤🥰🐾
Sweet buddy Marley officially found his forever home after a long rough road of life. Marley first came to us as a very sick pupper back in the autumn of 2020. He had a bad eye infection and just wasn't doing great. He saw the doctor and started to get on the road to recovery, though he was diagnosed with a heart murmur that would have him on pills for the rest of his life.
Between his health conditions and his age, we weren't sure if anyone would be willing to make little Marley a part of their family. These factors can be intimidating for adopters. So, imagine our joy when we heard from a lovely couple who wanted to come out and meet him! 😻
When Lana and Galen met Marley it was love at first sight. 🥰 We arranged for Marley to go live with them as a 'forever foster,' and his life quickly started going uphill. Marley made a pretty interesting first impression in his new home, immediately deciding to 'mark' inside, but luckily his new parents weren't phased. 😁 They were willing to work with him to learn about life inside a home, and help him settle in. ❤ In his new home Marley thrived! His personality started coming out, and his patient and loving new parents helped him experience things he couldn't have dreamt of before – from everyday luxuries like getting tucked into his own comfy bed, having morning snuggles with his Dad, getting 'fridge tax' treats from his parents, enjoying his favorite Starbucks 'puppucinno', and getting a spa day hair cut every two months; to more adventurous things like going to the beach for the first time! 🏖 Since being in his new home, Marley has traveled to 10 different countries (including adventuring around Czech Republic). 😲His parents discovered he loves the car! He loves chilling, snoozing, and sitting in front of the AC watching the world go by. He has become quite the adventurer! 🚙
Marley has been in forever foster for some time now, and has become a very important part of Galen and Lana's family. As such, they have decided that they want to make him an official part of their family in every way possible – so we moved ahead and Marley has been fully adopted!! 😍🥰🐾
We are so so happy for Marley and his Mom and Dad. ❤ This is an ending beyond our wildest dreams for Marley, and we feel so good knowing that he will spend the rest of his life surrounded by unconditional love, being spoiled by his doting parents. 🥰 We wish you the best life Marley, and we can't wait to hear about all your adventures going forward. 🥰 ❤🐾