REESE is looking for his forever home!!
Meet Reese, male, 6 year old, mixed breed, medium size 30 kg. He is vaccinated, dewormed, Advocate treated and microchipped and castrated.
Reese is a real big sweetheart🥰 This boy is so gentle and so kind. He is really good with all dogs in our sanctuary and he is so sweet with people. He is also good with kids that come and visit us. He cowers if you make a fast movement or he yips if you grab his harness and he gets scared, so Reese has definitely been mistreated in the past and yet he is such a gentle giant❤
A volunteer of ours took him for a hike and is saying: "Reese was a bit nervous at times, but also incredibly sweet, as he always is. I think part of him really wants to explore. He would come back to me for more pets often. He behaves very well on the lead, short or long, and has zero problem with any dog. I think he just needs someone to be patient and show him he's safe."
If you can imagine being the right match for Reese, then hurry up and contact us!! ❤🐾🥰
The conditions of adoption are signing an adoption contract, which includes to pay an adoption donation. Message us on facebook and complete an adoption application (which can be found in our 'About' section or on our webpage).
In our current situation we can only answer your request via fb Messenger and due to the Covid restrictions you need to schedule an appointment with us for visiting. Thank you for your understanding.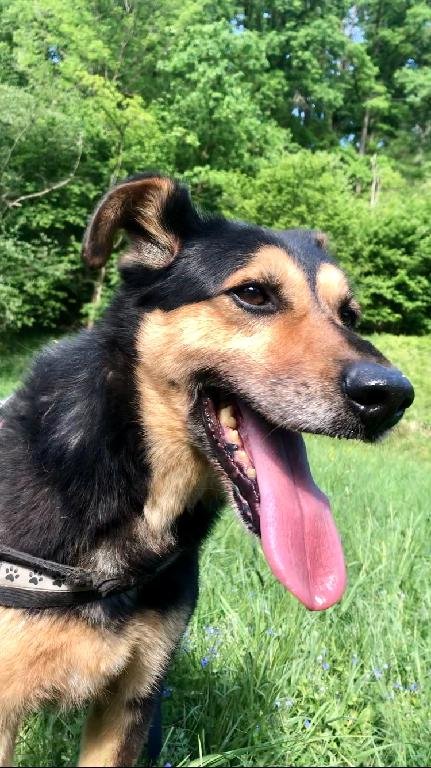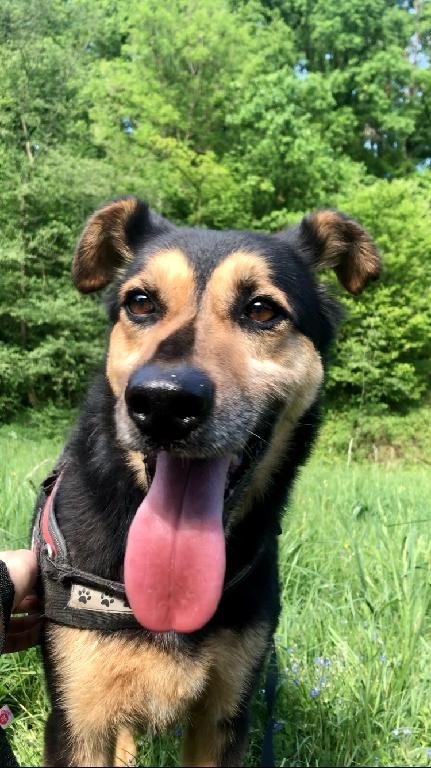 HAPPY TAILS: 30. 8. 2022
Happy Tails to Reese who found his forever home with Marie🐾❤️🐾
Reese is a wonderful soul who hasn't had much luck in his life. Originally from Ukraine, he was rescued from an unimaginably cruel animal shelter. His journey to happiness began with detours. After being rescued from this horrible shelter, he came to Yulia who had a small private animal shelter in Ukraine, and when the war started Reese had to leave from there too. All dogs from Yulia's shelter had to go into a one-month quarantine in Poland, where the dogs spent a torturous month in a cage. After that things finally started to improve in Reese's life. After Poland he made his way to us to Kadlin to become a member of the Cool Critters gang❤️
At first Reese was very shy and he was very scared. He was constantly sitting in the corner of his kennel and trying not to meet our eyes to avoid any conflict. We were told that during quarantine he was kept separately from other dogs. After some short time we started to figure out that this guy is a gentle and kind giant who is fine with other dogs. Once we integrated him into our big pack Reese started to bloom, he became a very happy dog and he learned how to walk on a leash and that people can be very nice to him. He started to trust and he came for pets and especially for treats. Despite his amazing character people were not much interested in him, we were always told: "he is too big, he is a male dog, he is already old with his six years…" Sadly, he was overlooked or simply ignored by just about every visitor, but at the same time he also became one of our absolute favorite dogs.
But as fate would have it, the right person came along for Reese too. Marie is one of these wonderful people who does not care how old the dog is, or if it is a male or a female. The last dog she adopted was an 11 year old Newfoundland dog which she gave a wonderful final home for a few months. This lady is truly incredible and we are so glad that Reese found this particular home❤️ Unfortunately, after the adoption, Reese was found to be heartworm positive. Marie was very concerned about this, but we assured her that his chances of recovery are very good. His therapy has already begun and we will do everything in our power to ensure that Reese will have a long and happy life. He really deserves a happy ending!
Have a wonderful life sweet boy you could not have found a better home ❤️