A special pup introduction 🐾🐶
Many of you may not even know who that pretty lady is…
this girl has been with us for 15 weeks!! So why we haven't introduced her yet?!
When she came to us she was incredibly wild, we couldn't risk letting her out to any of our visitors and only a hand full of volunteers could to be around her. From her past we know that she was found on the streets where her puppies had been taken from her and as a result, she was very traumatized. We knew we had to give this girl plenty of time to she can trust people again. After four weeks we managed to put a collar on her without having to fear that our hand would be bitten off, only Nobby is the all-time record holder in collaring 😅 According to her behavior we named her Mama Monster 😜😇
Day by day she got better and trusted us more. One day she even came to us for cuddles, so we started to introduce her to visitors. Mama did so well, that we knew it was time to put her to foster. We really needed an expert in this field and of course who else but Phillip Roberts could do it.
So Phillip came to visit her and it was love at first sight. Mama looooved him and his big dog Oliver. So Phillip just picked her up and lifted her into his car 😱😱 while we almost succumbed to a heart attack 🤣🤣
Back in Prague he let us know that he is still in one piece and that Mama is settling in well. A few days later she was outfitted with the usual bandana and he sent us this video. Her name is Mona now ❤️❤️
UPDATE: 8. 6. 2022
MONA is still looking for her forever home!!
Meet Mona, female, 3.9 years old, mixed breed, medium size 21 kg. She is vaccinated, dewormed, castrated, Advocate treated and microchipped. Medium energy dog and good with cats.
When Mona came to us she was really afraid of everything and would not let anyone touch her. She is now in foster care in Prague and her foster daddy Phillip is saying: "Once she grew to trust me, she became one of the sweetest and cuddliest dogs I've had the pleasure of fostering ❤️❤️".
She is super food motivated and can be easily trained because of this, but because she is so motivated by food you must be careful when leaving human food around, she will steal it.
Mona can live in either the city in an apartment or in a small town somewhere with a garden. With the right owner who is willing to introduce her to new things she will thrive in any environment🥰
She is good with other dogs, but she would be totally ok to be the only dog at home getting all the cuddles for herself.
Mona is house trained and walks well on a leash. We think a household without children will be better for her. Mona is good with cats.
If you can imagine being the right match for Mona, then hurry up and contact us!! ❤🐾🥰
The conditions of adoption are signing an adoption contract, which includes to pay an adoption donation.
Message us on facebook and complete an adoption application (which can be found in our 'About' section or on our webpage). We ask any future owner to meet the animal in person before adopting.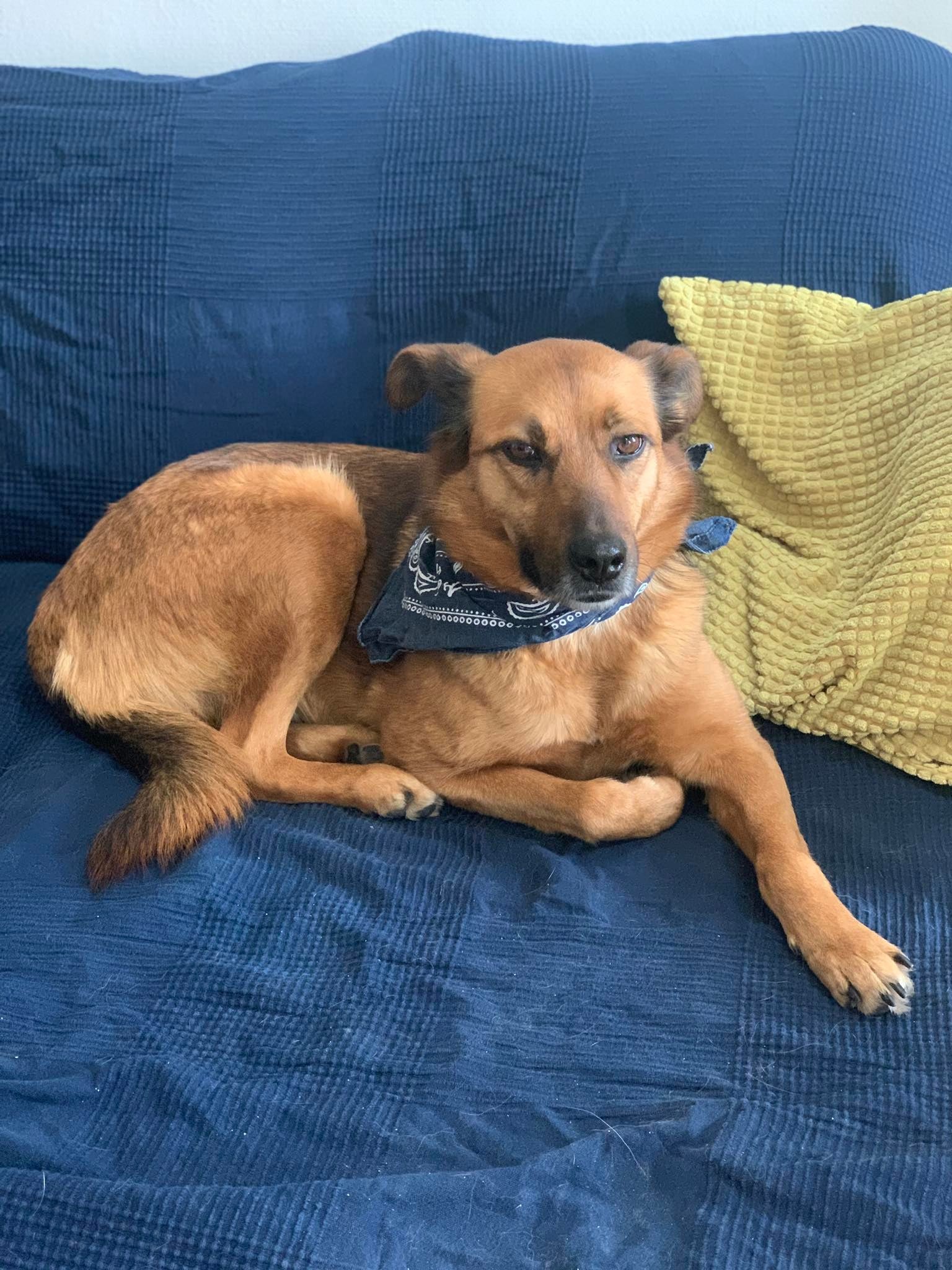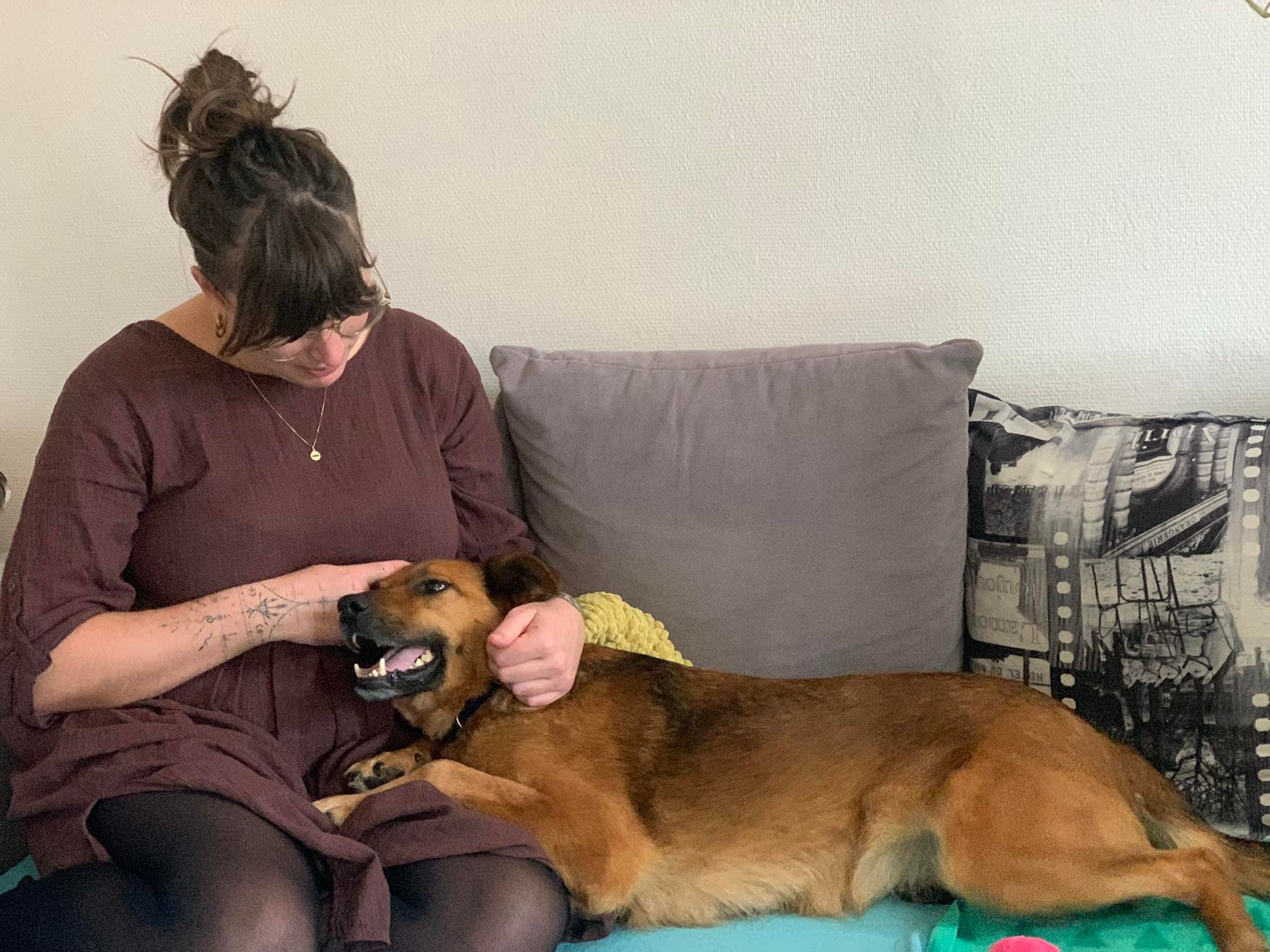 HAPPY TAILS: 31. 8. 2022
Happy Tails to Mona who found her forever home with Miriam and her son 🐾❤️🐾
Seriously when Mona came to us she was something else, she was incredibly wild, we couldn't risk letting her out to any of our visitors and only a hand full of volunteers could to be around her. From her past we only knew that she was found on the streets where her puppies had been taken from her and as a result, she was very traumatized. We knew we had to give this girl plenty of time to she can trust people again and a incredible foster home with our amazing Phillip. Phillip came to visit her and it was love at first sight. Mama loved him and his big dog Oliver. So Phillip just picked her up and lifted her into his car 😱😱 while we almost succumbed to a heart attack 🤣🤣
Phillip managed to transform Mona in no time into the sweetest girl. He was the one that found this wonderful home for Mona. Now Mona lives with Miriam and her son and she is doing great. Her new family is saying: "We've taken her to meet with friend and on the tram, bus, and train. She's so sad when we leave that we end up taking her almost everywhere 😃 Most of our friends also have dogs so that works out well. Some of our friends have 4-5 year old kids and she does great with them. We're trying to teach her how to play too, but she loves just being petted mostly 😃". Never in our wildest dreams could we have thought that Mona would find such an amazing home.
Have a wonderful life sweet girl❤️