CINNAMON is looking for her forever home!!
Meet Cinnamon, female, 2 years old, mixed breed, smaller medium size 12.5 kg. She is vaccinated, dewormed, castrated, Advocate treated and microchipped.
Cinnamon is the sweetest girl, very energetic, loyal and protective of her family. Her favourite toys are her soft animals and any kind of balls. She will play fetch endlessly and bring the ball back to you. We think that if she had the opportunity to be taught to do obstacle courses, that she would be in her element. She is highly intelligent and knows the names of each of her toys, so if you tell her to go fetch…"monkey", "bunny", "ball" or "snake" she knows exactly what you are talking about and will look for it and bring it to you. It is very easy to teach her new tricks and she loves to learn❤️
As much as Cinnamon loves people, she only likes older children and she will certainly growl and snap after younger children if they are too much for her. She is wary of strangers but once she knows you she is absolutely fine. She doesn't like loud noises and still sometimes cringes if something falls or when there are big trucks or noisy cars, so we she can´t live for example in the city center. A peaceful environment would be best for her as too much activity, noise and sensory overload stresses her.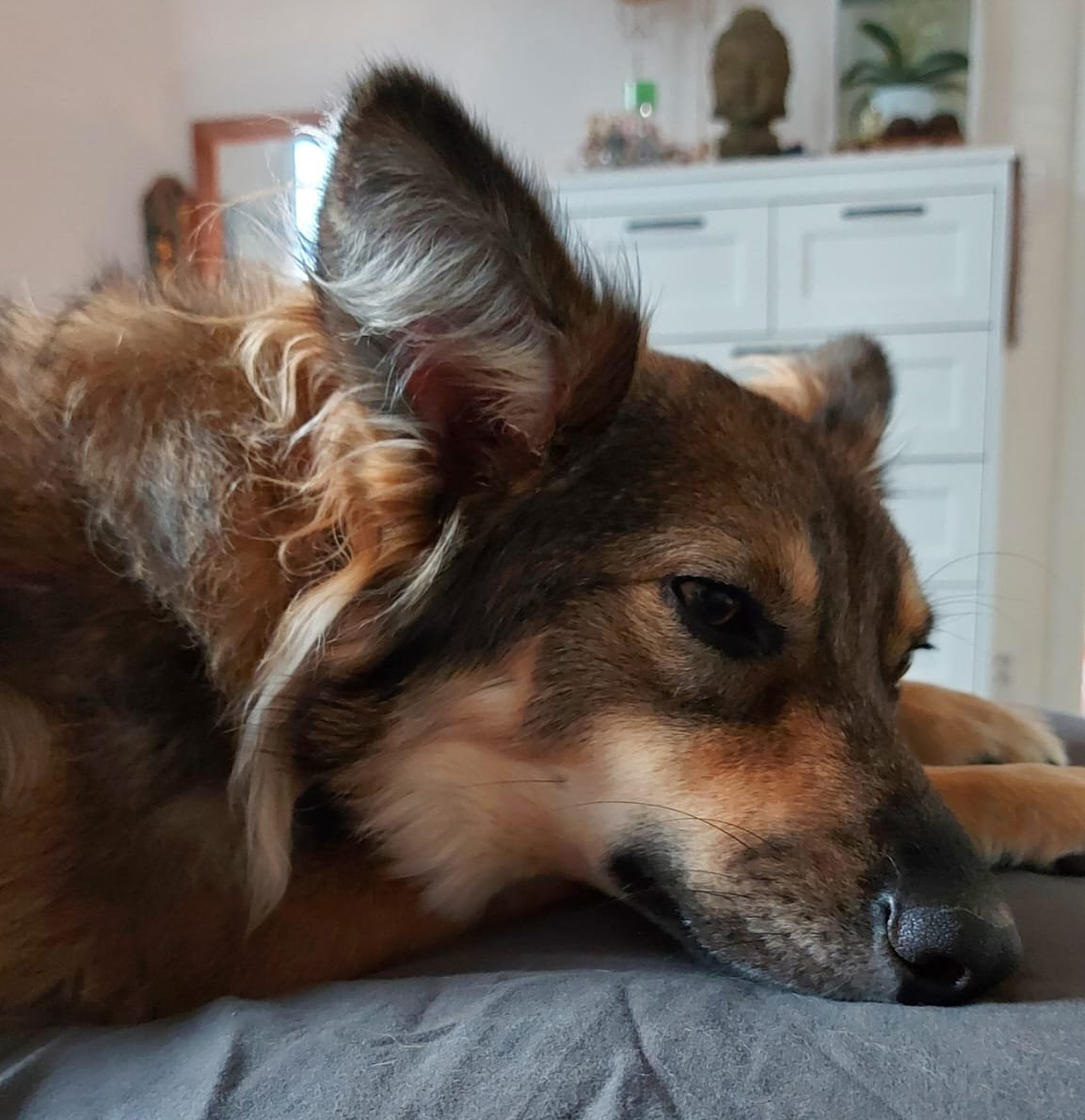 She does not like to be on her own and prefers the company of her human, so anyone that works from home, goes to a pet friendly office or someone who is already retired would be the best future owner for Cinnamon. A house with a garden and a furry companion would help her as well staying alone at home.
Cinnamon is house trained and she walks well on the leash❤️She is able to go off leash when in the forest or where it's not busy, she will listen if you tell her to come, sit and wait. She knows only English commands so far.
Cinnamon´s favourite season is winter and she absolutely loves the snow and letting the wind blow through her fur. She is double coated so she does require a bit of brushing though she doesn't like it and will tell you so. Cinnamon is ok with other dogs🐾
If you can imagine being the right match for Cinnamon, then hurry up and contact us!! ❤🐾🥰
The conditions of adoption are signing an adoption contract, which includes to pay an adoption donation.
Message us on facebook and complete an adoption application (which can be found in our 'About' section or on our webpage).
Please message us to schedule an appointment for visiting.
HAPPY TAILS: 16. 9. 2022
Happy Tails to Cinnamon who found her forever home with Hana🐾❤️🐾
Cinnamon has been adopted before, but lost her home after more than a year because the adopters went their separate ways. This is a fate pets often face when a family separates. Luckily it is written in our adoption contract that we want the animal back if such a situation arises. Like this we were able to find a new home for Cinnamon even without her having to go back to our sanctuary
Lots of people reached out to us about Cinnamon, but Hana was the best match❤️ It wasn't easy with Cinnamon at first and there is still some work to be done, but Hana is up for the challenge. We thank Hana for her determination and dedication and wish them both the best of luck. Hana says that she and Cinnamon are already inseparable and she even takes her to work. Hana signs her emails now with H+C🐾
Have a wonderful life sweet Cinnamon❤️