ČESKY:
Bundás
Původ: Přijat od majitele
Bundás, pes, kříženec, přibližně 10 let starý. Je očkovaný, odčervený, kastrovaný a čipovaný. Menší střední velikost, 12 kg. Málo až středně aktivní.
Bundás strávil většinu svého života opuštěný na řetězu na zahradě. Předchozí majitelé ho chtěli utratit, ale jedna dívka ho zachránila a přivezla Bundiho k nám do Kadlína. Bundi byl mezitím dokonce adoptován, ale rušný život ve městě s tolika dalšími psy a lidmi, kteří na něj chtějí sahat, pro něj není to pravé, a proto pro něj nyní hledáme nový domov.
Bundás je starší pán, který ví, co má rád, a nesnese dotěrné chování psů ani lidí. Bundas není vhodný k dětem ani k jiným domácím zvířatům, i když kočky toleruje, pokud není příležitost je venku honit. Má rád lidi, ale zároveň musí být interakce s nimi v souladu s jeho vlastními podmínkami. Obvykle vrčením dává najevo, že se mu něco nelíbí, a pokud to nehodláte respektovat, tak kousne, proto hledáme zkušeného pejskaře, který pochopí Bundovu řeč těla a hranice. Když je zmatený nebo frustrovaný (například při ohňostroji nebo bouřce), má tendenci běhat za vlastním ocasem a kousat se do něj. Když ho rozptýlíte nebo mu řeknete "ne", přestane.
Protože Bundi nikdy neměl možnost se normálně socializovat, špatně se snáší s ostatními psy. Pokud je druhý pes klidný a hlavně si ho nevšímá, pak je většinou v pohodě, ale pokud je druhý pes příliš nadšený nebo nerespektuje jeho osobní prostor, pak je připraven kousnout. Potřebuje být doma psím jedináčkem.
Bundás je krásný pes v ideální velikosti. K našemu překvapení se zdá, že ho baví chodit k psímu kadeřníkovi. Celkově je pozitivní, veselý a velmi zvědavý 🥰 Rád poznává nová místa. Jakmile vás Bundas pozná, bude si říkat o drbání na bříšku a rád se tulí v posteli ❤ Bundas je na svůj věk také dost hravý. Jeho oblíbená hra je přetahovaná.
Šikovně chodí na vodítku a je čistotný. Je už teď zvyklý žít v bytě a nic neničí, když je ponechán o samotě. Bundas je málo až středně aktivní pes, který si užije několik kratších procházek denně a stačí mu to. Pokud mu dáte hračku nebo kost, vydrží mnoho hodin, aniž by potřeboval pozornost.
Bundás je zcela zdravý a v současné době užívá přírodní uklidňující lék Zylkene, který mu velmi pomáhá se uvolnit, zejména pokud jde o kousání do ocasu a vyjíždění na ostatní psy.
Hledá zkušeného majitele a život na venkově daleko od příliš mnoha nepřátelských městských psů bez vodítka a jejich dotěrných majitelů. Bundas si tyto zlozvyky vypěstoval kvůli své těžké minulosti. Prostě se naučil, že z každé nepříjemné situace se může dostat kousnutím. Bundi není zlý pes, to, jak se chová, způsobili lidé. Dokáže být opravdu šťastný z maličkostí, pamlsku, pohlazení po břiše a příjemného útulného místa k ležení.
Bundás se nachází v Praze a je možné ho tam navštívit.
ENGLISH:
Bundás
Origin: owner surrender
Meet Bundás ❤
At the end of November, a call for help was made on one of the Prague doggie groups for a dog in Slovakia that had been taken to the vet for euthanasia. The dog was healthy and his only 'crime' was, his owner had a new puppy and didn't want him anymore.
We sprang into action, trying to get him to us. Not an easy task in the current situation. After a week of making plans, plans being thwarted and making more plans, (I think we were on plan F by this time!), Bundás finally arrived.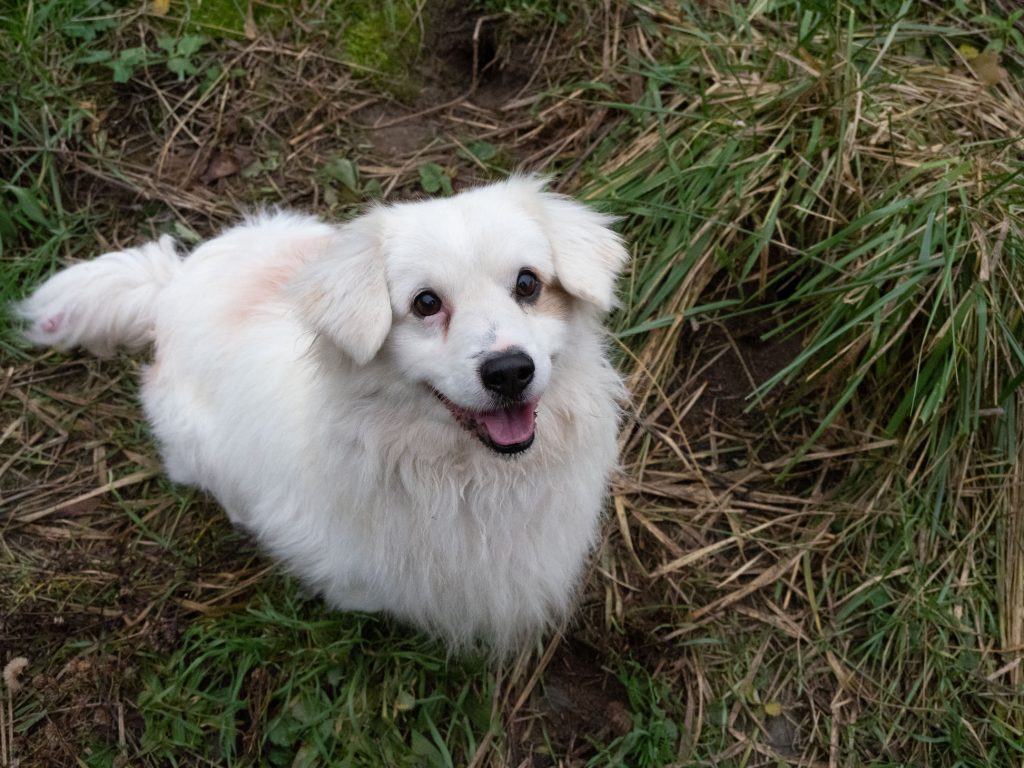 He has been for a health check and apart from being overweight, he weighs in at just over 12kg, he is very healthy. He was fed bread and kitchen scraps and now he will enjoy good healthy food.
Bundás spent his entire life in the garden. He isn't house trained, he chases and barks at cats and he chews the end of his tail through stress.
Bundás loves belly rubs, he had a lovely bath and he will soon start to enjoy the life he should of had, as a pampered pet ❤
UPDATE: 19. 11. 2022
BUNDAS is looking for his forever home!!
Meet Bundas, male, 10 years old, mixed breed, smaller medium size 12kg. He is vaccinated, dewormed, castrated and microchipped. Low to medium active.
This dog has spent most of his life left to himself on a chain in a garden. The previous owners wanted to euthanize him, but a girl rescued him and brought Bundi to us to Kadlin. Bundas has even been adopted in the meantime, but the turbulent city life with so many other dogs and people who want to touch him all the time is not right for him, so we are now looking for a new home for him.
Bundas is a slightly older gentleman who knows what he likes and will not tolerate intrusive behavior from dogs or people. Bundas is not suitable for children or other pets, though he tolerates cats as long as there isn´t an opportunity to chase them outside. He likes people, but at the same time the interaction has to be on his own terms. He usually growls to indicate if he does not like something and if you are not going to respect that, then he will bite, so we are looking for an experienced dog person who will understand Bunda´s body language and boundaries. When he gets confused or frustrated (for example when there´s fireworks or thunderstorms) he tends to run after his own tail and bites it. When you distract him or tell him "no" then he stops.
As Bundi has never really had a chance to live a social life, consequently he does not deal well with other dogs. If the other dog is calm and mainly ignores him, then he is usually fine, but if the other dog is too enthusiastic or does not respect his personal space, then he is going to bite. He needs to be the only dog at home.
Bundas is a beautiful dog that comes in a perfect size. To our surprise he seems to like to go to the groomer, so we think that he enjoys looking handsome. Overall he is positive, joyful and very curious 🥰 He loves to explore new places. Once Bundas knows you he will ask for belly rubs and he likes to snuggle together in the bed ❤ Bundas is pretty playful for his age. His favourite game is tug of war.
Bundas walks well on the leash and he is house trained. He is now used to live in an apartment and does not destroy anything when being left alone. Bundas is low to medium active who enjoys a few walks a day and he can entertain himself pretty well. If you give him a toy or a bone he goes many hours without needing attention.
Bundas is entirely healthy and he is currently on a natural calming medication called Zylkene which helps him a lot to relax, especially when it comes to the tail biting and lashing out to other dogs.
Bundas is looking for an experienced dog owner and a life on the countryside away from too many overfriendly off leash city dogs and their pushy owners. Bundas developed these bad habits because of his difficult past. He just learned that he can get out of any inconvenient situation by biting.
Bundi is not a bad dog, the way he behaves now was created by humans. He can be really happy with small things, a treat, a belly rub and a nice cozy spot to lay down.
Bundas is still in Prague and can be visited there.
If you can imagine being the right match for Bundas, then hurry up and contact us!! ❤🐾🥰
The conditions of adoption are signing an adoption contract, which includes to pay an adoption donation. Message us on facebook and complete an adoption application https://forms.gle/kg855WvLQTwZXPX4A