ČESKY:
Přijata do azylu: 21.8.2023
Původ: nalezena v obci Mělnické Vtelno
Váha: 2.6 kg
ENGLISH:
Entered shelter: 21.8.2023
Origin: found in Mělnické Vtelno
Weight: 2.6 kg
28. 8. 2023
When an adopter of ours calls to say they found a pregnant cat in need, how could we say no?
Really thin, hip bones prominent, no meat on her bones. With a big belly 😢 On Thursday we took her to our vet for an ultrasound. She wasn't pregnant, we were told she had enlarged kidneys and her blood work was terrible, our vet thought she might have FIP 😭 She was hospitalised overnight.
We had already a triple test on her on entry for Panleukopenia, FCoV and Giardia. Negative for all three.
Friday, Fritz went to the vet for dental surgery. We discussed Jewel, a pretty name for a pretty girl, and talked about the FIP possibility. She tested negative for FCoV, so it shouldn't be possible she has FIP 🤷
With this information, more tests and another ultrasound were done. This poor girl had Pyometra 😭
Pyometra is an important disease to be aware of for any dog or cat owner because of the sudden nature of the disease and the deadly consequences if left untreated. It has been compared to acute appendicitis in humans, because both are essentially empyemas within an abdominal organ.
Without immediate surgery this little cat would not have survived more than a week. It's actually a wonder that she survived this long as she also has no teeth! The raging temperature of last week would have been very harsh on her. With no teeth she couldn't hunt so relied solely on food she could get from humans.
Jewel is now recovering at the Sanctuary after spending three nights hospitalised at the vet. She's a sweet grateful kitty who went to the vet weighing only 2.6 kg and came back weighing 3 kg! Needless to say she is eating very well 😊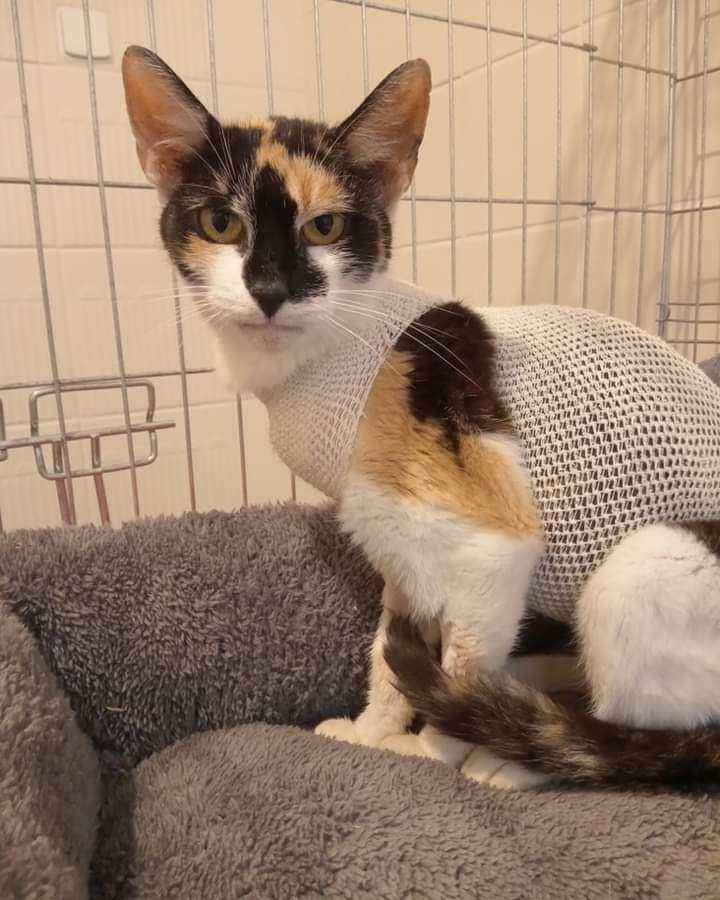 3. 9. 2023
Jewel gained her freedom today from quarantine and we couldn't find her 😹 Then like magic she appeared 😻
This older lady is doing well, she's still fighting an infection but the prognosis is good 🙏
17. 9. 2023
Our lovely Jewel is making a remarkable recovery after her surgery and her blood work is now normal ❤️ She is gaining weight rapidly, from 2.6 kg when she arrived to 3.4 kg now. We are so happy that this little girl was brought to us, one more week outside and she probably wouldn't have made it 😔
As you can see, not having teeth doesn't stop her from munching on the Dreamies 😸